CaveTubing is one of the most unique and exciting adventures offered in Belize, and for those who have never experienced it, now is the time to try it out!

Explore Belize Caves makes your cave tubing experience one to remember, taking you through two large caves, trekking through the Mayan Jungle, and offering fantastic one-on-one interaction with your knowledgeable tour guide.



With Explore Belize Caves, you can be sure you won't be herded from one place to the next with a large tour group. You'll be in a small group headed by a friendly tour guide who can't wait to help you experience everything!

Your trip will be enjoyable from the start, when you meet our guide just outside of terminal one at the cruise port. From there, you'll be taken to the caves in a comfortable air-conditioned van, learning fun facts about Belize on the way!

Your tour guide will be with you from the time you leave the port until you return, and will help to make the excursion a memorable one.


---
Please enter your reference number provided and click submit.
Don't leave home without:
- 'T' shirts
- shorts
- bathing suit or trunks
- water shoes
- light rain jackets
- suntan lotion
- insect repellent
- camera with lots of film and battery
- a hat
- medication (if needed)
- sun glasses
We have been operating tours and travel services throughout Belize, as well as Guatemala and Mexico for about 12 years. We have well trained tour guides that work with us that are also trained in basic life saving, CPR and the like. We have a lot of experience in a wide variety of tours like snorkeling, white water rafting, other mayan ruins, and other cave exploring. You will see our tour guides at the cruise port outside terminal one with our signs if you book a tour with us. Our vans are clean, air conditioned and comfortable to ride in.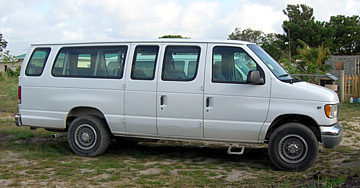 We also do other full package overnight tours. We will arrange the itinerary for the trip. Contact us for more information on being picked up at the Belize International Airport (airport code - BZE).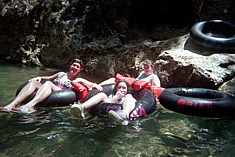 Explore Belize Caves is owned and operated by Dennis Perez and is a branch of Challenge Travel and Tours.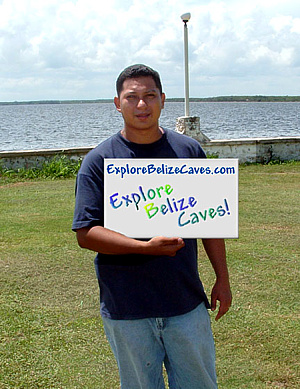 Above: Dennis Perez
Meet our friendly Staff Left to right:
Dennis, Eric, Leonel, David, Bernie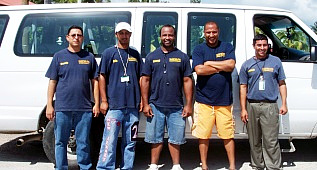 ---
Explore Belize Caves is featured on Trip Advisor as an Attraction in Belize City.
---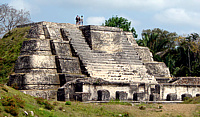 AltunHa
We also offer:
Zip-Line Tours
AltunHa Maya Tour
Belize Zoo Tour
Belikin Beer - All you can Drink

Questions?
Click here to chat with us right now!.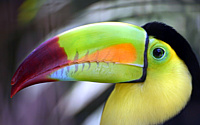 Belize Zoo
You can text us on our US phone number at 206-317-1100. If you do not get a response within eight (8) hours email us.